Welcome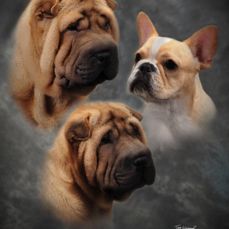 photo by winning image
We are an AKC Breeder of Merit.
We are located in Rochester MN an hour south of the Twin Cites.
Paul & I have been owned by dogs our whole lives. I started showing when I was 9 in 4-H. We breed occasionally mostly for our own show dogs. Unfortunately not every puppy is a show dog. They may have a small flaw, or just not have the personality for the show ring. This is where wonderful pets come in. They are in the same litters with show dogs. We breed for health and temperment first, and if we get a show dog in a litter that is just a wonderful bonus.
We belong to several AKC affiliated clubs, and can refer you to other reputable breeders in the area if we currently don't have any puppies that fit your needs.
Please don't be fooled by other breeders who register with anything other than AKC.
Destiny Shar-Pei & French Bulldogs are fed Life's Abundance food, supplements, and treats for their health and longevity.
Independent Distributor of Life's Abundance Pet Food & Supplies
If you are going to order from Life's Abundance please use the
not the Truth About Pet Foods link Below.
THANK YOU!!!!!